Through the lands of the National Capital of Trekking
One of the most attractive and complete trekking tours in Patagonia. Views of the Fitz Roy and Torre massifs, and the southern Patagonian ice field, the Viedma glacier and lake, the Vuelta al Huemul has become an extraordinary trekking in Patagonia.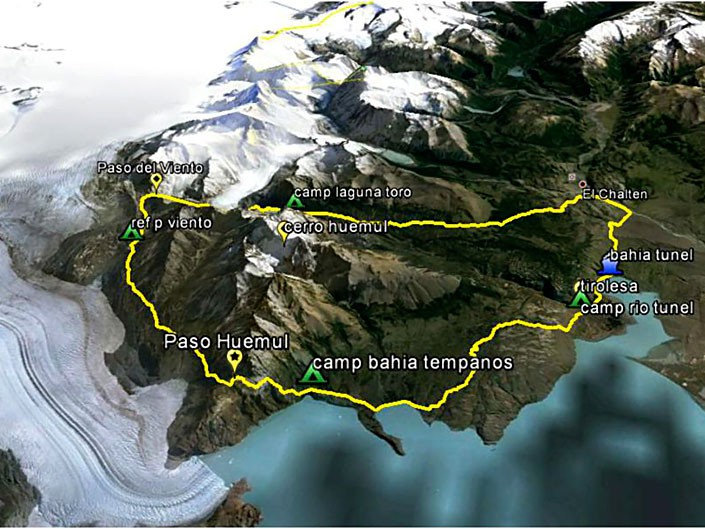 Itinerary
Day 1 - Meeting in El Chaltén, equipment/gear review, guides presentation. Overnight in hostel
Day 2 - We leave in the morning from El Chaltén to Loma del Pliegue Tumbado from where we´ll be able to fully observe the Fitz Roy and Torre massifs. We will follow the Tunnel River Valley upstream to the Toro Lagoon Camp, where we´ll spend our first night. We´ll camp at the Laguna Toro Camp.
Day 3 - After a delicious breakfast, we disarmed camp and leave to Paso del Viento. Key day of trekking because it is our gateway to the Patagonian Continental Ice. After crossing the Tunnel river, wading or using the zip line (according to the conditions and decision of the guide) we´ll ascend 900 meters of unevenness to have one of the most impressive views of Patagonia: the ice field. The trekking is very varied, passing through stone, grass, glacier ... From there we will descend heading south to the Paso del Viento refuge. Camp.
Day 4 - Early we leave for the Huemul Pass. Following the lateral moraine of the Viedma Glacier with a southerly direction, we skirt Cerro Huemul through this unexplored region of the National Park. An ascent of about 400 final meters and reaching the Huemul Pass we will have the Viedma Glacier on our right, the Viedma Lake on our left, all at the same time. From there we can see the front of the Viedma Glacier from above, as well as just 15 minutes away, a "condorera". Then we´ll descend the steep slopes of Cerro Huemul to the Bay of the icebergs, where in an old post we set up our camp.
Day 5 - After breakfast we start our march through the famous Patagonian steppe, always with Lake Viedma on our right. We arrive at the mouth of the Tunnel river. After a wading on foot, sometimes intense depending on the level of the river, we continue to Bahía Túnel where a 45-minute land transfer will take us to El Chaltén. Overnight in hostel
Day 6 - This day we include it with the option of trekking to Laguna de los Tres and ascend to the top of Cerro Madsen, a wonderful little spire, facing Fitz Roy. You can choose one or both alternatives. Return in the afternoon to El Chalten. Last night in hostel. End of the program.
Day 7 - Return